Tuesday, October 23, 2018
Saturday, October 20, 2018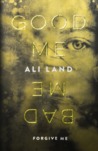 Good Me, Bad Me
by
Ali Land
My rating:
2 of 5 stars
This story was so disturbing and had so much potential. However; it fell a little short for me.
This does have triggers for abuse (physical and sexual), bullying, and child murder.
The parts around Milly and her past were thrilling. I wanted to know more and the more you learn the more disturbing it becomes. However; then you jump back to a game of mean girls at school and it just took away from the story. I was so bored with the foster family stuff in the first half of the book. Yes, there is mean girls, pranks, cheating, and scandals, but they were nothing that caught my attention. I just wanted to know more around the murders and what Milly went through. The second half did start to pick up a little. Everything does come together in the end. I predicted what was going to happen in the end, but there were still some twists I did not predict. I ended up skimming the first half to find out what happened.
I also did not love the ending. Overall, this was only ok.
View all my reviews

Friday, October 19, 2018
Bless Your Husband: Creative Ways to Encourage and Love Your Man
by
Angela Mills
I am not one to normally reach for Non-Fiction, but I loved the idea around Bless Your Husband and decided to give it a chance. I am so glad I did.
This was amazing. I started to skim through it the day it came in the mail. I ended up wanting to start to read it that night as well. I was not expecting this to be like an interactive journal. It was my favorite part. This was not only a powerful read for myself, but it also helped start some conversations with my husband that we needed to have. I loved all the tips and topics. I enjoyed writing down my thoughts and look forward to looking through this again in a few years to see how our answers may have changed.
If you love inspirational journals, I highly recommend picking this up. I have not finished it yet, as I want to take my time going through the prayers but I loved it from page one. I think it is very beneficial to your mental strength when it comes to marriage.
Overall, this was so much more than what I was expecting.
View all my reviews